There are typically five stages (sometimes 6)  one encounters when making life changes.  This model was developed in the 70's to chart the changes in smokers trying to quit.  Above there is a chart I found that shows you how it relates to people attempting to incorporate more physical activity into their daily lives.  Which stage are you at and how does it relate to your need to make a positive change in your life???  How do you think you'll get to the next stage??  Keep in mind that not everyone moves from one stage to the next in the same length of time.
Here is a more detailed explanation of the Stages of Change model:
Precontemplation is the stage at which there is no intention to change behavior in the foreseeable future. Many individuals in this stage are unaware or in denial of their problems (i.e. sedentary/unhealthy lifestyle)
Contemplation is the stage in which people are aware that a problem exists and are seriously thinking about overcoming it but have not yet made a commitment to take action. ("I know I need to BUT…" or you make "I should" statements)
Preparation is a stage that combines intention and behavioral criteria. Individuals in this stage are intending to take action in the next month and have unsuccessfully taken action in the past year (i.e. look into getting a gym membership, think about contacting a personal trainer, making "I could" statements, etc)
Action is the (hardest!) stage in which individuals modify their behavior, experiences, or environment in order to overcome their problems. Action involves the most overt behavioral changes and requires considerable commitment of time and energy. (This stage must be celebrated!! The person has made a choice and demonstrates desire for change! Having a personal trainer really helps you to stay motivated during this stage :)))
Maintenance is the stage in which people work to prevent relapse and consolidate the gains attained during action. For addictive behaviors this stage extends from six months to an indeterminate period past the initial action. Also celebrate this stage! You've accomplished your goal. Your clothes fit better. You don't even think about missing a workout.  This is a long-term commitment but you love your new habits and healthier self!  It takes time to get here and there will be small 'bumps' or 'slip ups' along the way but you'll switch up your workout to keep yourself motivated.  Your life has changed tremendously since you were in the "Precontemplation Stage" and you generally a lot happier with yourself than when you started 🙂
Relapse is the stage you want to avoid happening at ALL COSTS! But if it does happen, it's never too late to start over again…but it's hard, really, really hard!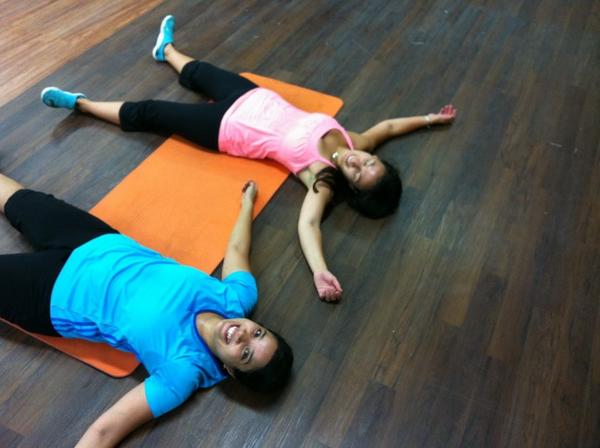 The reason I wanted to write about this topic today is because in the last couple of weeks I have witnessed quite a few new clients in stage 4- ACTION!  This is the most exciting moment for me as a trainer, especially taking clients through their very first workout.  Sometimes I wish I could videotape the first workout (some are worse than others) and then play it back to my clients 6-12 months later to remind them how far they have come (and how out of shape they used to be!)  Not only are they extremely motivated and ready to work hard on the first day (and everyday after that) but they give it their all! (no matter how light-headed, nauseous, sweaty, weak, or tired they feel).  It's amazing (and refreshing) to see people coming in to see me so DETERMINED TO CHANGE and DOING SOMETHING ABOUT IT!  It is one of the reasons I love my job as I get to help people overcome their greatest fears and do things they never thought were possible.
So to all my new (and old) clients reading this, you have taken a very positive and HUGE step towards living a healthier lifestyle and I congratulate you!   I know you can accomplish any goal you put your mind to- it just takes time, patience, determination and discipline (and listening to/trusting your trainer!)  And if you ever need any help, you know I'm always here to help and support you (and kick your butt when you need it!) 🙂
If you're someone who has been 'contemplating' working out for a while, or maybe you've always wanted to train for a marathon or wish you were in the best shape of your life and had a personal trainer well, what's stopping you?  Go ahead and JUST DO IT!  Life is too short to regret not living your life to the fullest!!
Les 🙂